Laptops: Five Reasons to Bring YOURS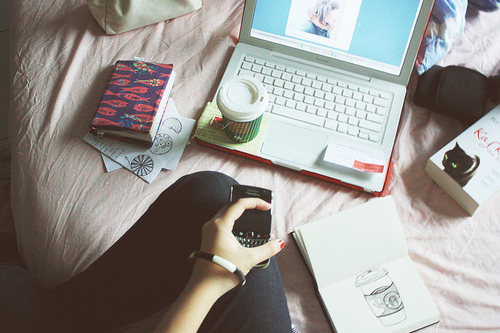 To lug around or to not lug around my heavy laptop… 'tis the question a lot of students ask themselves while packing their backpack early in the morning (or late in the morning/afternoon, however you end up). When you're having some trouble convincing yourself that that extra weight in your backpack is worth it, think of these 5 things that make your laptop super valuable when you're puttering around campus and getting work done!
No Waiting: If you have your own computer with you and four million papers coming up, it's extraordinarily stressful and frustrating to wander from library to library to try and find a free computer. Chances are, when you're super busy with midterms and essays and research papers, a ton of other people are too. Having your own laptop eliminates this and lets you plop down on any flat surface to happily (or anxiously) type away at your assignments. Using your own laptop instead of a library computer also means you don't have to worry about authenticating and using a fresh browser every time you sign on. After all, some of our bookmarks are useful.
Laptop Space: After reading Point 1, you might wonder where you'll find the space to use your laptop. After all, there are other people who have laptops and need flat surfaces for them, right? Totally. That's why there are laptop specific areas in like Cameron Library and Rutherford Library. In the Knowledge Common in the basement of Cameron Library is a huge technology space filled with computers, and also an area set aside for laptop users. This space is labelled for laptop use and has handy plug-ins on the table top. In Rutherford Library, the second floor now has a space behind the new set of iMacs for laptop usage, even if it's not explicitly labelled as such. The cushy chairs and easily reached plug-ins make this spot also fantastic for laptop work. There is space available!
Don't Go On Facebook: If you're like me, you'll worry about playing video games on your personal laptop and spending valuable study time on Facebook. The solution is simple: don't do it. And, anyways, what's keeping you from using those distractions on a library computer?
No Need for a USB Drive: Well, saying there's "no need" is kind of silly because, as Catherine said in an earlier post, a USB drive or key is vital. You should always have a USB drive in case of emergencies or if you need to print at the library instead of home. But having your laptop saves you the trouble of constantly using that USB drive and limits your risk of losing those precious files.
Note-Taking: Chances are you type faster than you write with your hands. While there's always the chance of distraction in class, it's easy to respect your teacher and the people around you by simply remembering Point 3. Rather than missing things you wouldn't be speedy enough to write down with a pen, type and get all the information you need from class. Using your computer in class also saves you money and paper by letting you pull up the electronic files of readings. Editing those files to make notes and highlight is also easy with a PDF reader. With a laptop, you also have easy access to your email, to eClass, and to Bear Tracks in case you need any of those. Many of us also keep our calendars on our computers, so rather than whipping out your smartphone to add something to your agenda, edit your calendar directly on your computer.
Bringing your laptop isn't always the best idea, but it is usually pretty convenient and can make your studying and work on campus a lot easier! Consider these five nuggets when you're fretting over whether the strain on your back is worth it or not!
Interested in the opposing viewpoint? Click here to check out Catherine's post on why she prefers not to bring her laptop.